GPS 30' 12/5 & 10/5 STW (600V) Molded Quad Box Stringers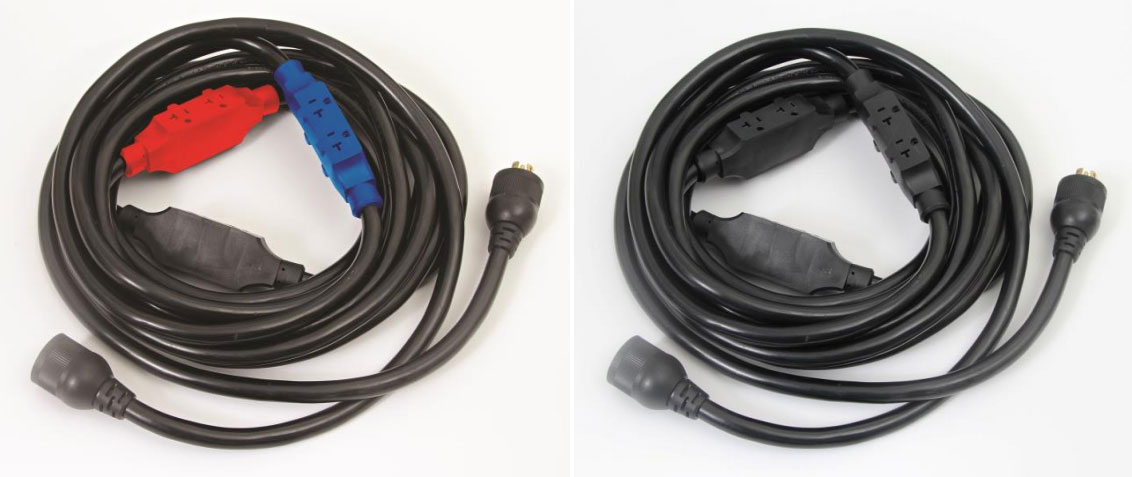 Our Booth Stringers with Molded Quad Boxes and Connectors are a cost-effective alternative to the standard
booth stringers available in the market today. These stringers distribute three (3) 20A-125 Volt (NEMA 5-20R)
boxes along the back wall of standard 10' by 10' exhibition booths for a total of 12 outlets. One stringer
provides power for up to a maximum of six back-to-back tradeshow booths. Our molded on quad boxes are
virtually indestructible and crush-proof. Just like our molded connectors, these molded boxes will not pull
away from the cord body.
Features:
An industry first, our stringer cords are the only ones made with molded on quad boxes and molded on
plugs and connectors
Our heavy duty molded male and female (NEMA L21-20) 20A 120/208V or (NEMA L21-30) 30A
120/208V twist-lock plugs and connectors will not pull away from the cord body like mechanically
applied ends
These stringers have three ultra low profile molded quad boxes that prevent the cable from pulling off
These boxes are solid molded PVC, making it resistant to impact damage and crushing when subjected
to harsh treatments at rough tradeshow environments
Our Extra Heavy Duty 12/5 and 10/5 STW 600V Cable resists cuts and abrasions and will provide years
of heavy duty use
Our Stringer Boxes are spaced every ten feet between each molded quad box
Each stringer box is phase colored with four (4) 20-amp outlets (NEMA 5-20R)
Phase color coded quad boxes are Red, Blue and Black, making it easy for electricians to detect which
breaker has been tripped
An all black stringer with black boxes is available for the Audio-Visual Industry